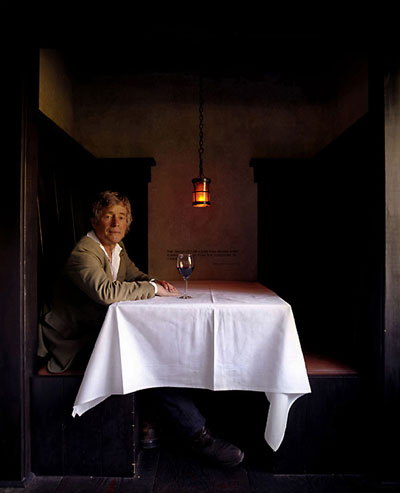 "These are extraordinarily pure, natural expressions of winemaking... primitive in the best sense of the word."
-Robert M. Parker, Jr.*

"Why would you want to drink a wine that, if it were a person, you would be bored of talking to?"
-Sean Thackrey

In the wine world, tasting is believing. It seems like every winemaker has a captivating fairy tale to tell, something that sets them apart, makes them special. While a good story can differentiate your product and boost sales, it unfortunately can't make good wine. That test lies in the bottle. Yet despite the many vintners who talk big but don't deliver, there are still names whose wines captivate and enthrall those in the know. Boncompagni Ludovisi, Abe Schoener, and of course, Sean Thackrey. If Petrus, Screaming Eagle, and DRC represent the pinnacle of their respective styles, Ludovisi, Schoener, and Thackrey represent styles unto themselves, art rather than craft, fascination over typicity, creativity over elegance.

If I gush excessively, I am not alone.

In Robert Parker, Eric Asimov, and Alder Yarrow, these wines have an audience of the highest caliber. To judge by the prices they don't appear the most sought after wines in the world, but money is not the only barrier that counts. Ludovisi's wines are available at just one store in the US; you must buy them as a mixed case, and you must be "judged worthy" by the distributor. Schoener's wines are made in minuscule quantities, and most are snapped up by the mailing list. Thackrey's high-end wines (between $100 and $200) are also small-production (in the hundreds of cases) and are so difficult to find that he created a database on his site devoted to tracking down bottles. However Thackrey does produce a relatively inexpensive wine called Pleiades, an "everything-but-the-kitchen-sink" melange of different vintages, numbered by release rather than year. I came across a lone bottle of the XV at the Corkscrew, and promptly snapped it up - I have never seen another Thackrey bottle, in any store, since.




Who is Sean Thackrey? Art-dealer-turned master vigneron. Medieval tinkerer. Craftsman from Shakespeare's time. Curator and transcriber of ancient viticultural texts. In writing this I tried to sum up the man, and realized that as much as we wine drinkers like to categorize and package, it's really all a crutch for dealing with complexity.

Sean Thackrey is a man worth knowing, whose wine is worth drinking.

His online library of wine-related texts (from which he gleans unconventional inspiration), spans 7 languages and reaches back to the 14th century. He includes the following introduction:


There are many purposes in reading. One is, to get to the point. Such readers should flee this site as fast as their mice will carry them.
Such words might be equally well applied to his wine. He aims for interest, pleasure, personality. "I don't drink Napa Cabs anymore-" explained Thackrey in an interview, " They're too damn polite for me." The wine I drank was certainly not polite. Nor was it dull or elegant. It held my interest and brought pleasure and evolving complexity until its last drop, which is as much as I've ever had from a bottle of wine.

Tasting note:

Sean Thackrey Pleiades XV

Medium garnet in the glass, the wine immediately blooms into a trio of eucalyptol, Brettanomyces, and dark fruits. Underneath these primary tones lie an ever-shifting accompaniment that suggests tiramisu, charcoal, tar, manure, damp wood, blackcurrant, orange spice, herbs, roasted lamb, and grilled carrots. The bouquet seems to change constantly - hence my verbose attempt to describe my many impressions. In the mouth it is weighty, medium-bodied, with fresh acidity and the slightest touch of silky tannins. There is a touch of sugar on the mid-palate which is my only structural complaint. The gorgeous finish lasts 80 seconds.

Certain aromatic elements remind me of the 2000 Guigal Cote-Rotie La Mouline though this doesn't have the La Mou's elegance or balance. The syrupy flavors and oak influence remind me a little of Gerard Perse's 2005 Clos L'Eglise (Cotes de Castillon). This wine keeps evolving in the glass - as the Brett blows off, other flavors rise to prominence in turn. 95 points. $35.

______________

Addendum: Chow.com recently uploaded an interview with Sean Thackrey.

*Parker's Wine Buyer's Guide No. 7